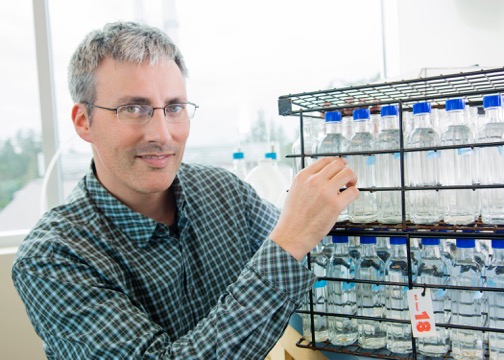 Location
Landing Mall
115 E. Railroad Ave.
Port Angeles
Cost
Suggested donation $7.00; members are free!
The Integrated Fukushima Ocean Radionuclide Monitoring (InFORM) project is a partnership between academic, government, non-governmental organizations, and citizen scientists to monitor the arrival of Fukushima-derived contamination, cesium-134 (t1/2 = ~2 years), cesium-137 (t1/2 = ~30 years), and iodine-129 (t1/2 = 15.7 million years) in the open Pacific and Arctic Oceans and North American coastal waters.
In response to public demand, monitoring began in the fall of 2014, when models predicted the arrival of radionuclide contamination from the 2011 Fukushima nuclear accident. Monitoring efforts will capture the peak of the radionuclide contamination, predicted to occur in our waters, utilizing our network to collect coastal, oceanic, and marine biota samples.
This talk with present the methodology of data collection and findings of the various samples to date. Contamination levels continue to be below levels that are known to represent a significant threat to human or ecosystem health. The InFORM project will continue its monitoring efforts through 2019.
Speaker bio:
Dr. Jay T. Cullen grew up in the Kawartha Lakes area of central Ontario in Peterborough and developed an interest in lakes and oceans early on.  He took his BSc (Honours) in Biology from McGill University and PhD in Chemical Oceanography from Rutgers University. After a postdoctoral scholarship at Woods Hole Oceanographic Institution in Massachusetts he has been at the University of Victoria in BC, Canada since 2003 where he is a Professor in the School of Earth and Ocean Sciences.  He has helped to develop sensitive analytical techniques to measure metals and contaminants in natural waters. Through a combination of analytical chemistry, radioisotope tracer studies and collaboration with microbial physiologists his research program aims to understand the distribution, chemical speciation and fate of metals in the ocean and the influence of human activities on the health of marine ecosystems. Cullen has received the Craigdarroch Research Award for Excellence in Knowledge Mobilization and was named Provost's Engaged Scholar this year by the University acknowledging his efforts in community outreach, education and engagement.  He was recently named to the shortlist of candidates for two open astronaut positions at the Canadian Space Agency. See the Cullen Lab website http://web.uvic.ca/~jcullen/ for more information. Twitter @JayTCullen